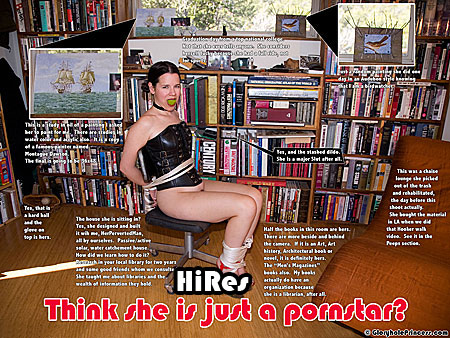 Well, here is my story. I am a Princess or at least I am treated that way by MyPervertedMan. I am educated. I received my Bachelor degree from a top university. I have a Masters in Library and Information Science from another top university. I am not nor do I want to be a professional porn star. I am just an incredibly kinky woman living out my sexual fantasies in a very public way. This site is about the very naughty side of my complex sexual personality.
I am a librarian outside of porn. I love my profession. I find it intriguing, challenging and highly rewarding but I find sex intriguing and highly rewarding also.
I wasn't born a kinky librarian. I was working in New York as an archivist when I met a photographer with a real kinky streak. I wouldn't have known that I liked being fucked while tied up in industrial Saran Wrap or having my face covered in cum while being told how good my cock sucking skills are. Well, that was just the beginning of my fall into sexual depravity. Turns out, I love cock and need more cock than one man can provide. I love turning men on who are respectful and appreciative of a woman like me. I love that sexual excitement that fills the air when naughty things are happening. My man started bringing me to Adult Bookstore Peep booths so I could suck the cum out of strangers cocks. It made me feel so dirty in that stomach rousing sort of way. Total butterflies! In Public and Nasty is the way I like my sex. He would photograph me and I would look at the pics later and fuck myself with my favorite dildo totally reliving that orgasmic excitement. I became an absolute wanton Slut!
I love Small Cocks, Big Cocks, Thin Cocks. Cocks that belong to older men and college boys. All I request is that men are respectful, abnormally kinky and treat me like a Princess. If everyone is turned on and enjoying each other, there is no hotter time to be had. If you are into degrading and not worshipping women like me then there are other sites out there for you. This site is about a kinky woman's desires. Mine. ;) I love being worshiped for my nastiness.

I prefer Men that Cum fast, really fast. The faster they Cum, the more drenched in Semen I get. I like dressing like a Slut to go to the store and feel men's eyes on me because my pussy keeps popping out from under my skirt. My man will egg me on to brush against a total stranger in a crowded aisle if that stranger has been totally respectful in his peeks. I like going to the Gloryhole at lunch in my jeans and a t-shirt and come home with pics for my pervert and crusty cum on my face. I never know what I'm going to like on any given day. Flirting and picking up a bunch of unsuspecting guys at the same time is one of my favorite things. Of course, I shouldn't forget about frigging myself in front of the mirror thinking of all the nasty emails I've read, taking pictures of myself the whole time.
It is so hard to find Kinky men and women with whom to play but when you find them, Wow! Ever have a kinky petite little girl suck your cock in public and then thank you for the load that is dripping from her mouth onto her dress? Watching a man try to collect his wits after I have blown his mind is so hot!
I hope you come join the site and post your thoughts and requests for me to read. ;)
Piper
This site is run purely for the kink of it!
We have real jobs just like you.